7 Comfortable and Cozy Futons
Traditionally, in ancient Japan, futons were a round mat filled with leaves for cushioning. These futons were placed on the ground to sleep in. In Modern Japan, many people have moved to western mattresses, but the Futon is still a popular choice.
In America, most people think Futons are just a cheap version of a sofa bed. Although there are many inexpensive versions on the market, you can find futons at all price levels.
Here are 7 of our favorite futons to use as a couch or a sofa during the day and a comfortable and cozy bed at night.
Mainstays Memory Foam Futon – Faux Suede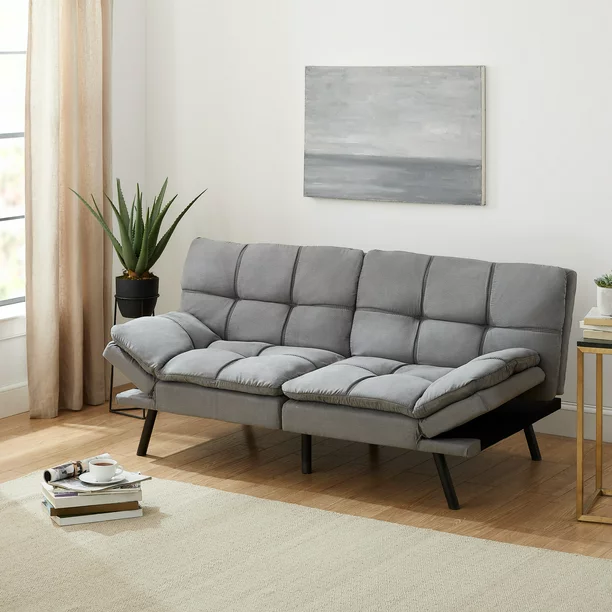 This futon is available in 5 colors – beige, black, black faux leather, blue and gray, allowing customers to choose the look and feel to match their home or apartment. It is 72 x 34 x 32 inches as a futon and 72 x 42.5 x 16.5 inches as a bed, making it large enough for almost everyone to sleep comfortably.
This model can support up to 600 pounds and converts from a sofa to a bed in seconds. The cushions are filled with polyurethane and has memory foam for an extra layer of comfort. This futon has sturdy metal legs and a lined wood frame for the perfect combination of stability and décor. 
Foam Faux Leather Pillowtop Futon With Cupholder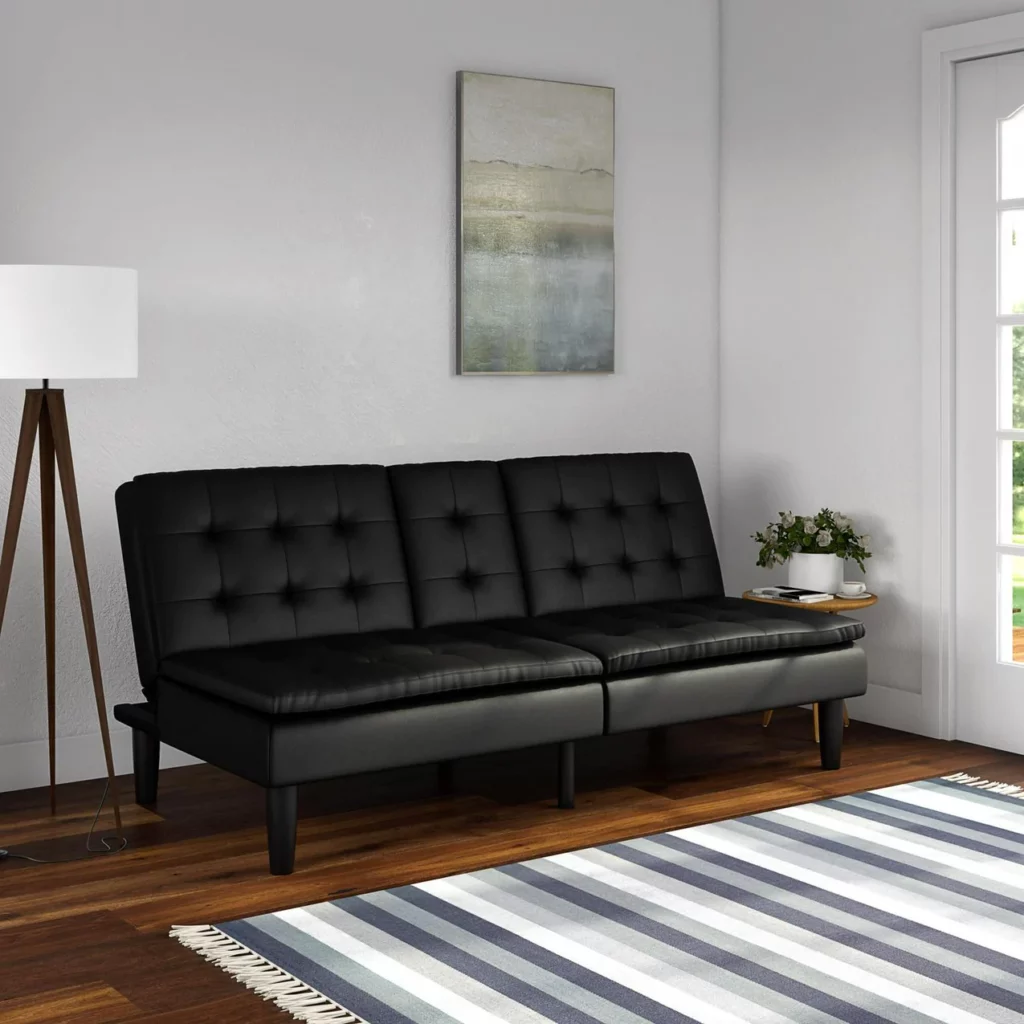 Available From Home Deliveries US
This faux leather pillowtop futon is available in five colors – vanilla, light gray, brown, black, and black faux leather. The futon dimensions are 71.5 x 35.5 x 32 inches and the sleeping dimensions are 71.5 x 43.5 x 16 inches. It can support up to 600 pounds.
This futon has a pillowtop and memory foam for comfort and support. It has an excellent simple frame design that will look nice in any space, even smaller areas like offices and dorm rooms. It has a mid-century style, and it is upholstered in faux leather.
Jodi Coil Futon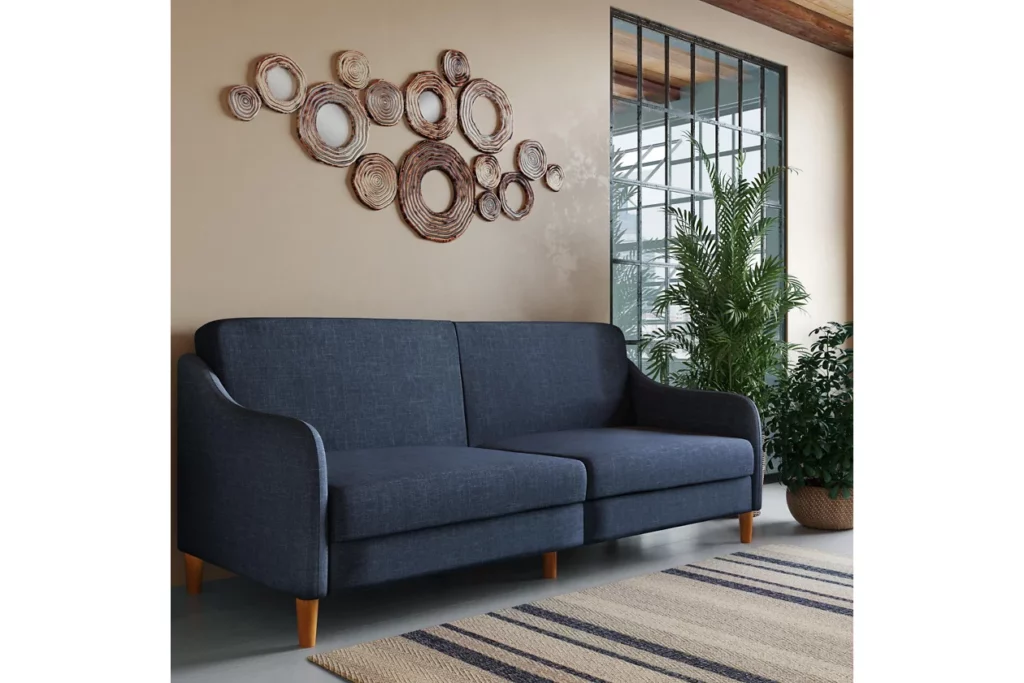 Available From Ashley Furniture
Ashley Furniture is known for making high-quality and attractive furniture. As they are also selling futons, you can see that this is not just a piece of furniture designed for college students anymore. This Futon is 77 x 33 x 32.5 inches and can support up to 600 pounds. It weighs 114 pounds.
The Jodi Coil Futon is navy blue, has rounded wooden legs, and has foam cushions designed with supportive, pocketed coils. This futon is designed for comfort and style. It can accommodate multiple positions and can easily be converted from a sofa to a sleeper.
Monroe Square Arm Sleeper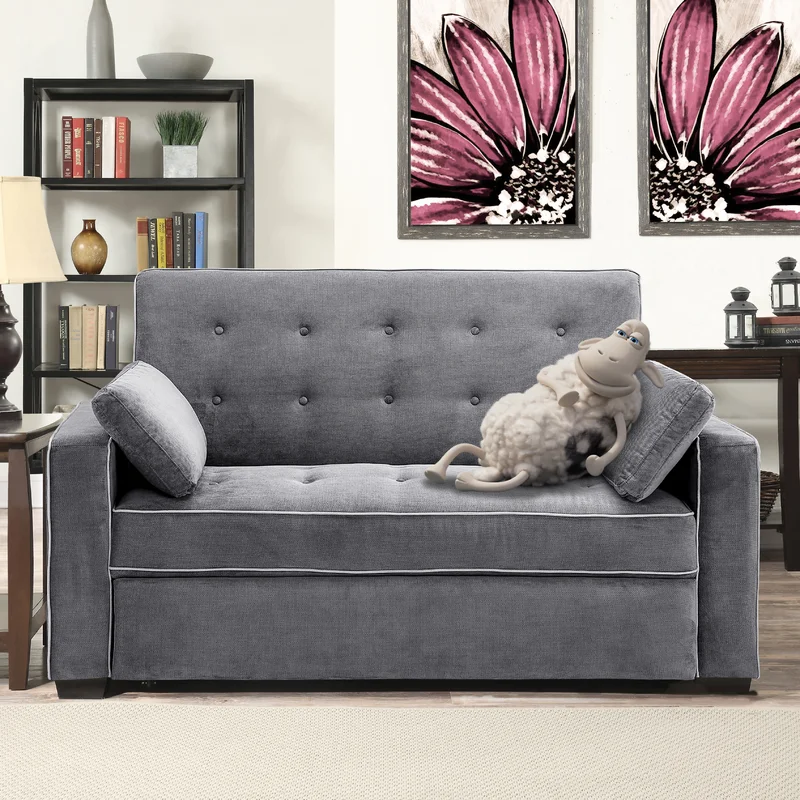 The Monroe Square Arm Sleeper is a good choice if you are looking for a smaller piece of furniture. This futon is more of a loveseat than a sofa, perfect for small spaces, including an additional piece of furniture for a bedroom. This would be perfect to lounge on, as a sofa or a sleeper, to stream video, play video games or spend time with a phone or tablet.
This futon can support 400 pounds, and it is 66.5 x 67.4 x 38.6 inches as a loveseat and has dimensions of 54 x 75 x 24.8 as a fully flat sleeper. It weighs 156.2 pounds.
Pink Velvet Futon Sofa Sleeper With 2 Pillows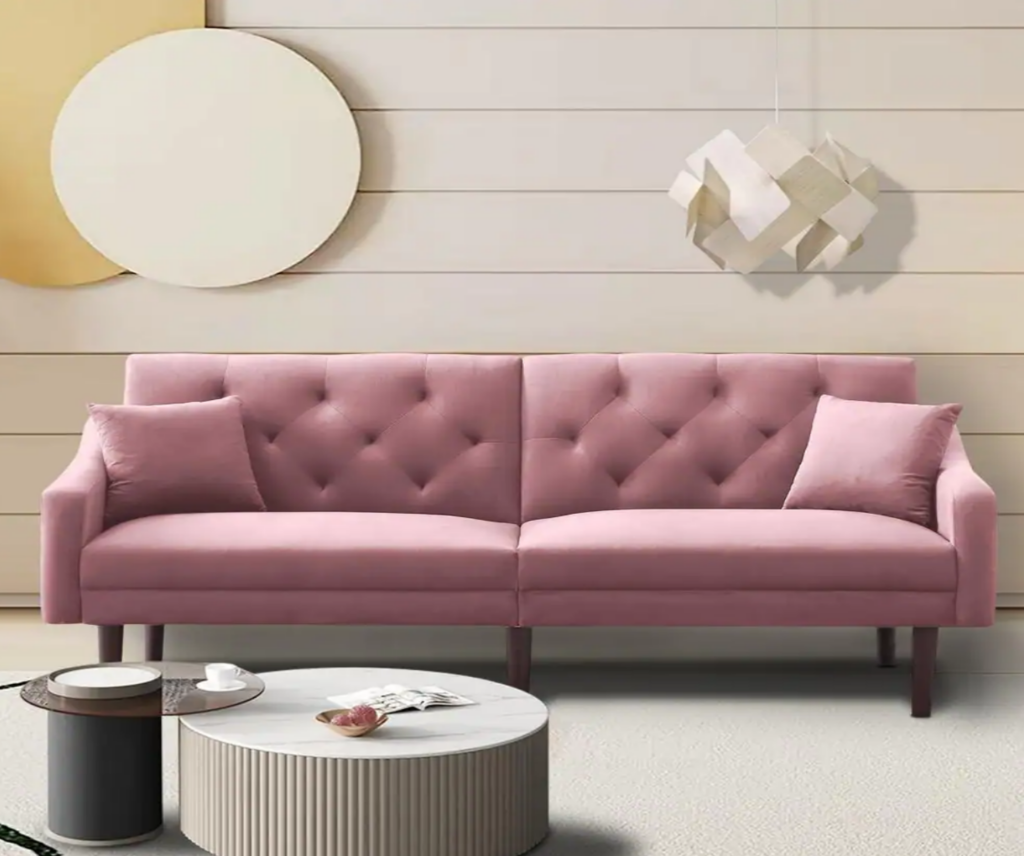 Are you looking for something pink and pretty? The Pink Velvet Futon Sofa Sleeper with 2 Pillows is perfect! It is pink with 2 matching pillows and has a medium-brown wood finish to match the color scheme. It is 72.8 x 30.3 x 31.1 inches and weighs 72.6 pounds.
This futon can be converted into a sofa in seconds. It is designed for comfort as well as style. Some style elements on this piece include tapered legs, a tufted back, sloped arms, and a backrest that can be adjusted to 3 different angles.
Finnley Sofa Futon
The Finnley Sofa Futon is an attractive, high-end piece of furniture available in ivory or black velvet. It has a vintage-designed upholstery with Victorian legs and a diamond tufted back cushion, side cushion, and bottom front. It has a beautiful and elegant look that would be at home in any living room, family room, or study.
The dimensions of this futon are 89.5 x 34 x32.5 as a sofa and 71.5 x 42.5 x 18 as a sleeper. It can support up to 600 pounds. If you are looking for comfort, elegance, and beauty, all rolled into one piece of furniture, this is the futon for you.
Kodiak Furniture – Monterey Futon Set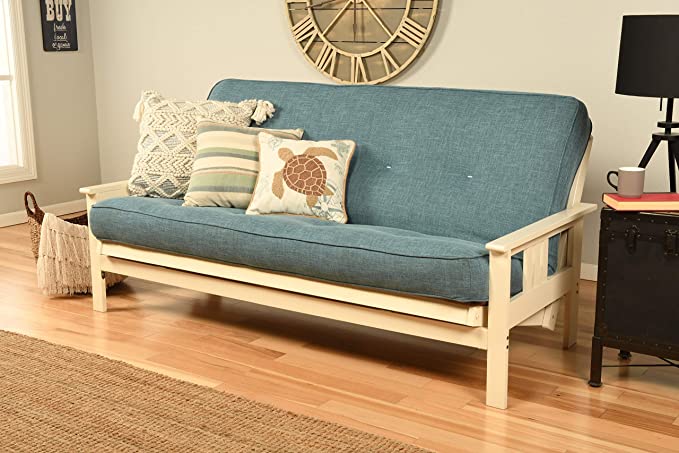 If you are looking for a classic or antique look and feel from your futon, the Monterey Futon my Kodiak Furniture is an excellent choice. It is designed with an antique white base and is upholstered in polyester.
This futon features plantation-grown hardwood, a 276 coil innerspring mattress, and can convert to a full-sized bed. The mattress portion of the futon is made in America. The futon weighs 135 pounds and is 79 x 37 x 33 inches. It can support 500 pounds.